I haven't been around for awhile, so I figured I should come back reintroduce myself and give a Max update. I am Jacqueline from Florida. We got Max after joining the forum back in 2010. He is now nine years old and we love him so much! His pal Sarge (GSD/Chow mix) passed away at 16 yrs old. We got him a new pal, Ace (Shiba Inu) and they have been together for six years.
We are retired now and take them both with us traveling. Two years ago they both saw snow for the first time. Neither one of them were nearly as excited about that as I was. They just took it in stride. Last year they camped in the Palo Duro canyon in Texas, then went to Colorado and camped at 9600 ft after a few days at a lower elevation to prevent altitude sickness.
Max has had health issues on and off through the years. Luckily no eye issues. He recently tore his CCL and has been getting laser treatments for it. The vet recommended against surgery. He has responded very well to the laser and his last treatment is scheduled in two weeks. I have been grooming him myself since he hurt his leg, so he has been looking a bit rough as I have no skills in grooming. I didn't want to take a chance on him getting hurt accidentally, but now he is well enough. I will take him to a pro after he gets his last treatment.
Here are some pictures of Max. Hope you enjoy them!
Max in his comfy chair saying, "Come on! Get the picture already."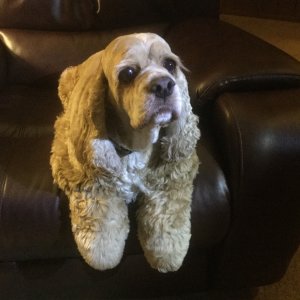 Max in the back yard saying, "What do you have there? I am sure it should be mine."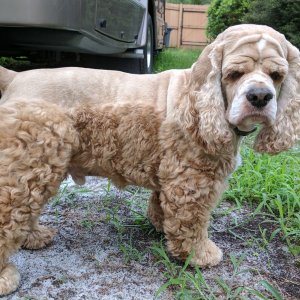 Max in the kitchen wanting a treat saying, "Whatever you have, it is mine."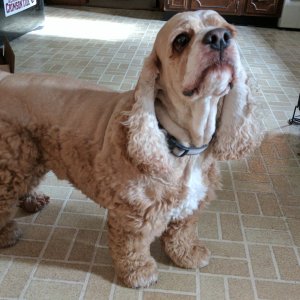 Max with his bud Ace enjoying a walk on the Banana River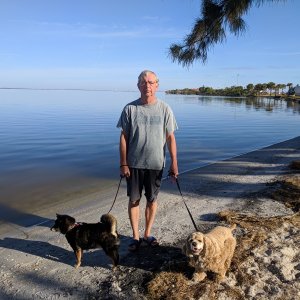 Max hiking the ADA trail at Crater of Diamonds state park saying, "Are you coming?"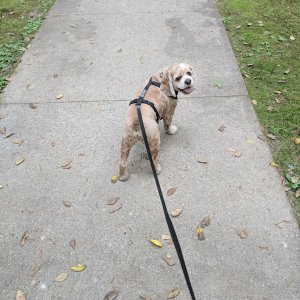 Max at the tampa RV show with his torn CCL saying, "Let me out of here!" He much prefers walking on his own feet.