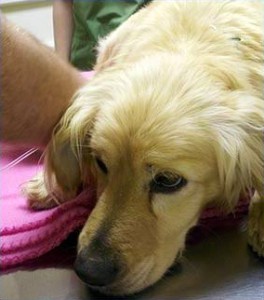 A cocker spaniel/golden retriever mix was found in Scottsdale, Arizona 13 days after running away from home. On June 28th, California resident Darcy Basinger was visiting family in Scottsdale with her 1-year-old cocker mix Jo Jo. She noticed Jo Jo was acting uneasy at the home. That's when he escaped through a propped open door.
Basinger and her sister had searched for 12 days until they found Jo Jo 2 miles away near a gated community but he was too scared to approach. The next day, Darcy's sister coaxed him with a squeaky toy and was able to grab him. They brought him to a vet. He was dehydrated, covered with cactus splinters, and lost 10 pounds. Miraculously, Jo Jo was in "shockingly good" condition, said Basinger.
A $5,000 reward for finding Jo Jo will instead be given back to the rescue organizations who posted it. Camp Cocker was one of them and the same rescue Jo Jo was adopted from.
Temperatures in Scottsdale, Arizona reach 100°F during the months of June, July and August.  The highest recorded temperature was 119°F back in 1970.